What Made the Bee Go Bad?
September 26, 2016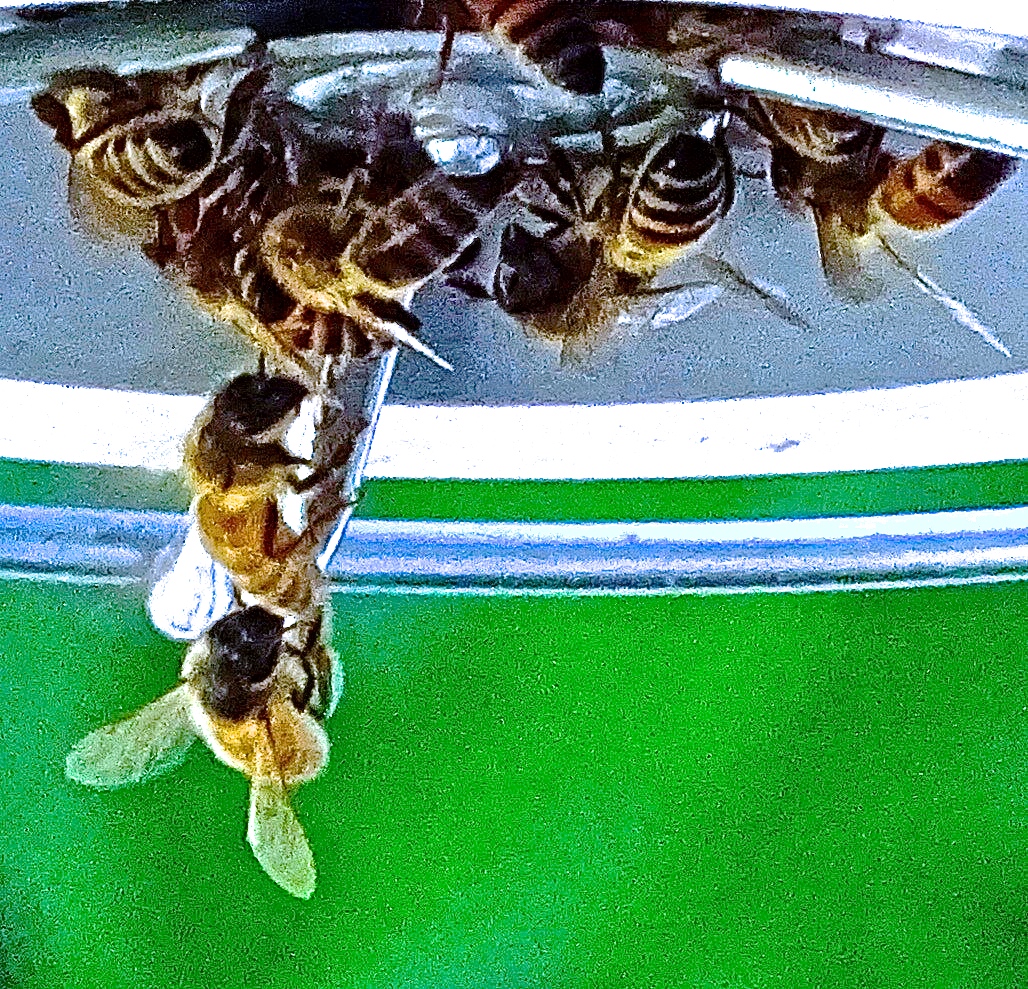 I love honeybees. I'm constantly rescuing them from our pool after they nose-dive for a little sip and get more than they bargained for. I'm also fond of hummingbirds and run a bustling backyard bistro for our little omnivores. They virtually own me in the summer months patronizing four feeders at a time. Usually, it's a happy coexistence with the flora and fauna in our canyon life; until a few weeks ago.
I was watering the garden when a lone bee began darting at me. At first, I thought it was one of my nemesis yellow jackets, but closer inspection proved me wrong. I sprayed him away only to be attacked with increased vigor. Like a schoolyard bully he chased me inside.
A few hours passed and my husband and I decided to have a little snack outside. Before long we noticed a group of bees swirling around one of the feeders. They gathered tempo and volume as more bees joined the riot. The swarm expanded in our direction as our typically docile bees turned Nazi-nasty and raided our food and us! They won the skirmish and come morning I relocated the feeder to safer ground. New equipment with bee guards have kept them less inebriated, so they now share the territory more peacefully with their feathered friends and me.
So, what would make a lovely little bee with no pursuit in life other than pollinating our countryside and making delicious honey decide to turn rogue? Was it the poison in the punch or the sudden power of the masses, or a little of both?
It made me think of our current worldwide dilemma and the responsibility that comes with large gatherings of like-minded people. There is power in the wolf pack and with that strength comes accountability. Unfortunately, there is disparity between the masses in what is considered "good", "bad" or "in between". The internet has managed to shrink our world and expand factions at the same time. In our country alone we are split down the middle by sharply contrasting ideologies. Race relations are at an all time low. Every day there's a new story of a shooting or tragedy somewhere, and we see children casually massacre adults at the behest of their dominant leaders. I repeat, what is it that's making the bee go bad?
We can't control the choices of others.  We are only responsible for ourselves.  We have to be conscious of what we consume and what we follow.  There is nothing new under the sun and mankind has been a mess ever since Eve gave Adam the apple and he savored his first illicit bite.  My prayer is that the innate human knowledge of what is truly good and right will overcome.  The syrup may be tasty, and the crowd may have overwhelming appeal … but ultimately, whether we believe it or not, we will all have to answer to a greater authority.  Death of the body is the great equalizer and one day we will all know the same truth.  That's a fact no one will contest.  In the meantime, choose to love, accept differences in others where you can, forgive, and always be willing to grow.
"You, then, why do you judge your brother or sister ? Or why do you treat them with contempt? For we will all stand before God's judgment seat.  It is written: " 'As surely as I live,' says the Lord, 'every knee will bow before me; every tongue will acknowledge God.' So then, each of us will give an account of ourselves to God."

Romans 14:10-12
" Let us not become weary in doing good, for at the proper time we will reap a harvest if we do not give up."

Galatians 6:9