The Gift of Peace
December 19, 2021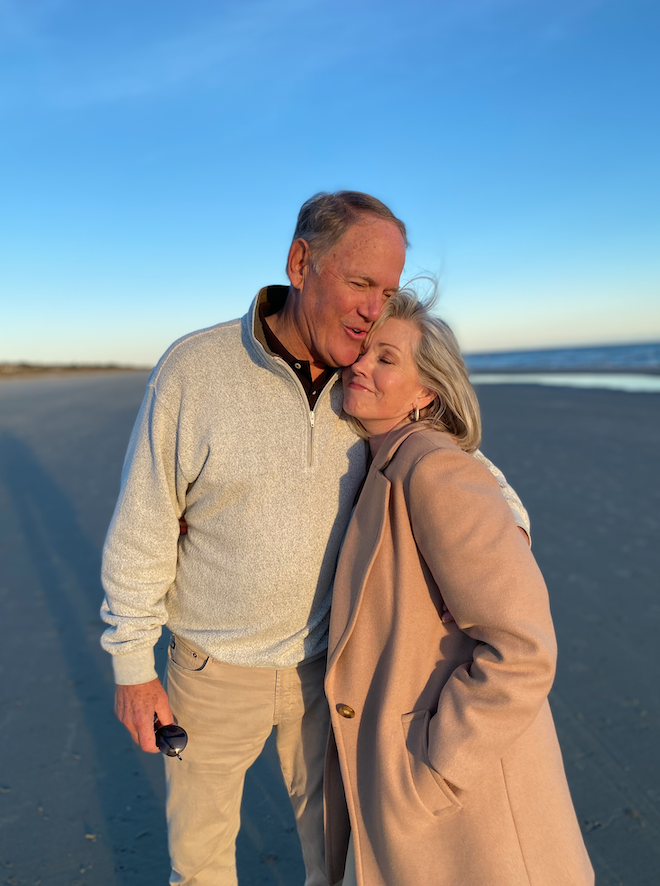 I have the privilege of caring for my grandson two days a week. He'll be three in April. I have distinct memories of raising my daughters at that age and it was pretty spectacular, but even with the quality time I was afforded between auditions and bookings as a mostly stay at home mom, it was not the luxurious affection-fest of focused attention I'm able to blanket my little boy with as a more unfettered grandparent.
His response to my delight and interest in him for an uninterrupted eight hours is noticeable. The more I give, the more I receive in hugs around my legs, squeezes, and declarations of "I love you Gila!" (His creative word for Grandmama which I happily embrace as my permanent baby nickname). I've noticed however, that if I have a day where there are pressing needs that must be tended to while we're together, his reciprocation is decidedly less effusive.
Nothing like the purity of a child to illustrate the basic human need for relationship. God hardwired us for connection. Infants will literally die absent affection and human touch.
As we mature, we continue to long for meaningful associations throughout our lives. Social media became the behemoth we both love and hate because of this insatiable desire. It's real and we can all attest to the beauty and depth of true friendship and love when we put the effort into listening, understanding, and honestly "seeing" those we care about.
My husband and I always answer the wedding question the same. Our advice to young couples is to equally give of yourselves if you want to make a marriage last. Consider the needs of your partner over your own and compromise whenever the scale tips heavily in both directions. Good relationships are gardens worth tending and the reward is the full bloom of extravagant peace and harmony in your daily life.
So, is it any wonder that our Creator intentionally seeks us out and longs for us as well? The whole reason we are designed for union is because God knows we need to first be in concert with Him before we can have fully functioning relationships with others. He is the fountainhead. If we are made in the image of God, then it makes perfect sense that this symbiotic need for relationship between humankind and Deity would exist and flourish with the same intensity as mortal bonds.
Yet we often resist. For some reason even those of us who believe strongly, who accept the person of Jesus Christ as the human embodiment of almighty God come to earth, struggle with inviting Him into our day-to-day moments and living. Maybe we take the relationship for granted because we figure God understands our schedules and knows our hearts. Maybe we don't believe He cares because we don't see the fruit of a loving God in our experience. Maybe we don't believe He exists at all.
Whatever category you may fall into, one thing I can assure you is that you are not alone. I think most human-beings toggle in their private thoughts between all three perspectives at times. We make current culture and circumstance our barometer for the depth of our faith in an unseen God who is an actual person we can know and commune with at will. We walk around empty wondering why joy eludes us and seek to fill ourselves up with counterfeit solutions that never sustain.
I would like to encourage you no matter your position to keep an open mind. Over the years I've often suggested to those searching for spiritual answers to quietly ask God to reveal Himself in their most vulnerable and receptive moments. If you are of the younger persuasion and the male pronoun offends you then have some grace and accept the fact that although God is neither male nor female, the image of a loving father is a perfect representation and the one He chose to historically employ in the scriptures. Avoid throwing the baby out with the bathwater because the "Christians" you see around you are anything but Christlike. Remember they are flawed humans like everyone else. This includes pastors, teachers, and public leaders. We are all works in progress until the day we die. If the Bible seems both terrifying and ridiculous to you, and there are things spoken from pulpits that keep you more than a ten-foot pole from a church door, rest assured that your Creator understands and is not deterred. Relationship is what He craves. Whether you believe in Him, He believes in you, and more than anything else He wants to hang out.
I was born with a receptive spirit and loved God intensely by age seven. I loved Him, but I don't think I truly understood or knew Him intimately until I was around ten years old when my parents divorced. I believe it was my mother's first date after my Daddy left. Our neighbor, Mrs. Norwood, was babysitting. I was struggling to fall asleep with a myriad of emotions tumbling in my heart. The loss, confusion, and pain were both overwhelming and relentless that night. I remember entering the kitchen and finding our neighbor with an open Bible at the table. The light shone dimly around her sturdy figure like a warm halo. She looked up at me and asked what was wrong. I tearfully answered that I couldn't sleep. This angel of a woman with her soft brown hair and gentle blue eyes took my hand in hers and led me back to my bedroom.
We sat together on that lonesome bed and she explained in simple language that I was never alone. She described how God was always with me and that I could speak to Him anytime I wanted. "Jesus loves you and He's your friend you can share anything with. Talk to Him and He'll listen."
She left the room and I lay still on my back eyes wide open. I slowly opened the palm of my right hand and asked Jesus to hold it as I shared my anguish in silence. I distinctly recall the warmth that penetrated my young body as I closed my fingers grasping a hand I could not physically feel but knew was there gripping back with the same intensity. Little did I know at that tender age the Holy Spirit was entering in with my invitation and trust.
From that moment on until today I continue to pray and communicate with God in this manner. I don't always remember immediately in times of stress or frustration. I don't always remember when life is prosperous and full. I do however return to Him with regularity never forgetting the immense lesson and experience of a shattered child's heart and how Christ responded with tangible love, peace, and assurance. Like my grandson illustrates, the more I give to Him the more I receive. I go home to my Creator and when I am fully present in the knowledge that this love affair with Him is just as real as my passion for my family, husband, children, grandchild, and friends, I am content beyond measure. There is no greater gift.
This Christmas I'd like to offer this present to you. Afterall that is what Christmas is all about. God incarnate in a little baby. A baby that would offer a kind of peace through relationship no person could ever imagine.
Keep learning and growing. Clear the doubts, excuses, and fears that hinder and pick up your Bible, or get one if you can, and read the New Testament Gospels with fresh eyes paying close attention to the words and behavior of Jesus Himself. There are many who pervert His simple lessons for their own agenda and the only way to decipher the truth is to see for yourself. Watch THE CHOSEN. I love this series because it depicts the early biblical accounts in a totally believable and relatable manner as they likely occurred. Ask questions of God. Include Him in your moments and feel the palpable return of your investment in Him.
Love one another this season and in the new year to come. Forgive with a generous spirit. Give grace with humility. Listen, empathize, be present. Using appropriate boundaries offer your time to love the un-loveable as God loves us. Love yourself and those different from you as God does with big picture eyes. Most of all cultivate your spiritual garden and don't neglect the One who made you and who adores you perfectly as no other creature on earth can. God's love never fails and as your devotion increases you will see changes in broken places you never dreamed possible. This gift that brings peace is both one of a kind and eternal. Our names are written on the tag and all we have to do is receive.
Merry Christmas!
"No one has ever seen God, but the one and only Son, who is himself God and is in closest relationship with the Father, has made him known." John 1:18
"Finally brothers and sisters, rejoice! Strive for full restoration, encourage one another, be of one mind, live in peace. And the God of love and peace will be with you." 2 Corinthians 13:11
The following links are two recent and powerful teachings from my current Pastor at Calvary Church. I pray they bless you.
Nov 28th 2021 Form & Fire, Pastor Ramin Razavi
Dec. 5th 2021 The Light is Winning, Pastor Ramin Razavi
Thank you for taking the time to read what I have to say. I truly appreciate you more than you may know. People rarely read a sentence these days much less an entire blog. I invite you to subscribe on my website if you're interested. You'll receive my blogs in your email every other month and be more certain to see them as they come.