Perfectly Imperfect
December 23, 2022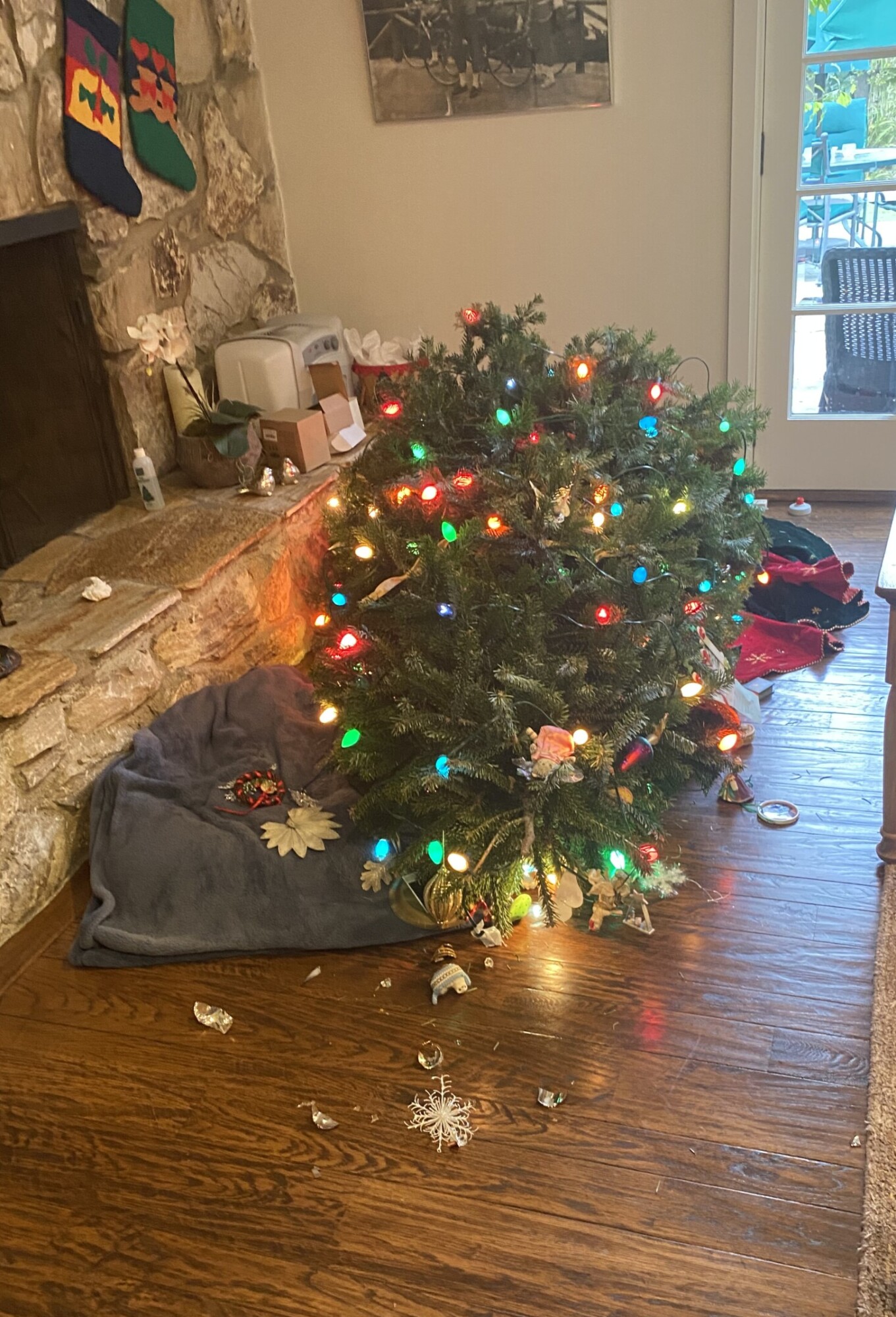 It has been a very challenging year.  We opted out of Christmas cards for the first time since marriage and I had planned on a tree respite as well for 2022 but my children urged me to remain in the holiday spirit since they were all in town and my grandson was at the best age for appreciating the magic of the season.  I decided it would do all our souls a favor, so I succumbed and took the plunge with more indoor and outdoor lights than ever and the most amazing tree we had seen in our lives.  
My husband found it. A magnificent Nordmann Fir with remarkable symmetry and more depth, breadth, and weight imaginable. It was simple perfection. He prepped the evergreen securing it in the base. Lights and ornaments finished our masterpiece, and we were ready for Christmas in record time. I felt a lifting of my spirit in advent mode for the celebration of our savior's birth and all the revelry of our intimate family plans for December.
The tree had graced our living room for less than three days when I lifted the lower branches to add much needed water. I felt the dreadful feeling of a "Timber!" moment out of control as the tree listed heavily to one side. I called for my housekeeper who happened to be there that morning. She responded to my howls, and we managed to push the heavy weight of the tree against a door and tie it with strong ribbon to a nearby handle. I wanted to cry but I didn't. I swept up broken ornaments and the pieces of my heart that littered the floor. My husband managed to re-screw the trunk that night and all seemed well.
A few days passed and the news that my struggling 97-year-old stepfather had passed was shared with the family. This death brought with it a sense of both relief and pain as complicated memories dredged their way to the surface for a final swim. My mother would have to settle into her new normal as well as my sister who cared for them both in Virginia. The ache of separation from my east coast family was more acute and I tried not to let it get me down.
A couple of days later I was at my watering post again, confident that my tree was immovable. My trust was poorly situated. I lifted the branch and in agonizing déjà vu fashion the heavy pine headed south once more with my white knuckles holding on for dear life. Like a scene from a Christmas gone wrong movie I felt the crash in slow motion as ornaments skittled across the floor and lights shattered into smithereens. My two hand blown ornaments I had bought the day before for my grandchildren lay in sparkling silver chunks amidst needles and a cascade of water pooling on the floor. THIS time I cried …. A LOT.
All the stress of the last several months, the fear and anxiety, the ache of uncertainty for the future and heartache of the past seemed to well up and pour out of me in that moment. I wandered around the house wailing like a baby unable to deal with the mess. There wasn't an ounce of my typical "I've got this!" snap left in my sad little body. Still in my pajamas and with a face as wet as the hardwood floor I saw our handyman Jose in the backyard. I had no idea he was there. I tearfully begged for help and in his typical valiant manner he tackled the predicament rescuing me and my wayward tree.
Four hours later with the help of the neighbor's gardener we managed to secure my behemoth of a holiday decoration in a new base with both rod and board screwed into the walls and the trunk of the tree. The tree looks perfect from one angle if you ignore the buttresses. The alternate view reveals a slight tilt off-center. The lights are bunched more at the bottom now than the top. My husband came home from work and said he'd fix it next day and I reacted with warp speed intention before he could take another breath, "No one's touching that tree again. It's fine!" And so it is. We are living with, and loving our perfectly imperfect Christmas tree.
My conifer conundrum is a metaphor I believe. Sometimes we need propping up. Life can seem perfect from an outsiders view but the reality is perfection is only an illusion. We need one another more at some times than others and we have days and seasons in life that seem impossible to bear but if we are open, we usually find help from those around us who are thoughtful enough to give of themselves and care.
You might be the recipient one day and the provider the next. The most important thing is the willingness to unabashedly slip into the need whatever it may be.
Christmas is all about receiving help in the gift of a baby born from God, a baby who actually IS God in human form, on this earth for the sole purpose of rescuing our imperfect souls. He loves us and desires us regardless of how crooked we stand or how often we fall. What better present could there be? Merry Christmas and happy holidays to you all in good times and bad. May the Lord's face shine upon you and strengthen both the weary and robust this holiday season.
9 But he said to me, "My grace is sufficient for you, for my power is made perfect in weakness." Therefore I will boast all the more gladly about my weaknesses, so that Christ's power may rest on me. 10 That is why, for Christ's sake, I delight in weaknesses, in insults, in hardships, in persecutions, in difficulties. For when I am weak, then I am strong.
2 Corinthians 12:9-10 NIV
23 Let us hold unswervingly to the hope we profess, for he who promised is faithful.24 And let us consider how we may spur one another on toward love and good deeds,
Hebrews 10:23,24 NIV