Love's Reward
August 23, 2017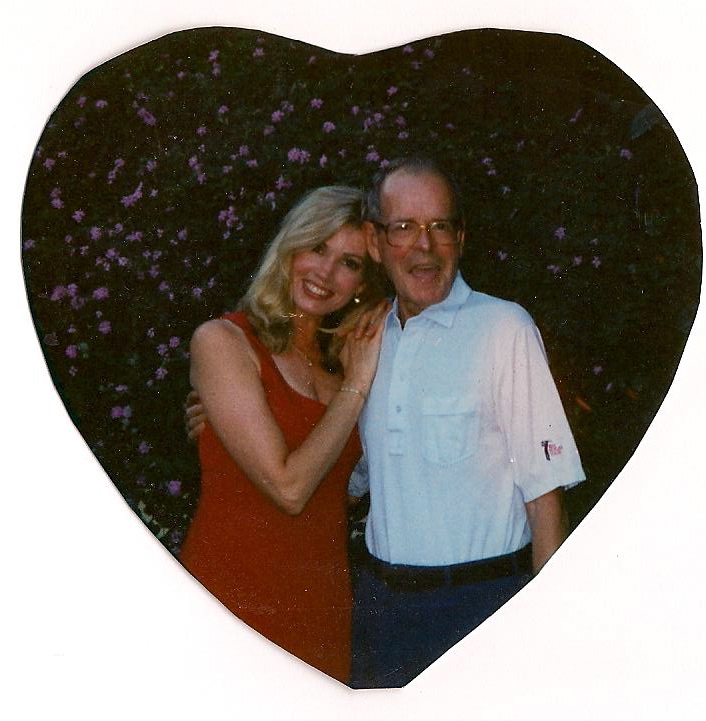 My sweet Daddy passed away Wednesday August 9th, 2017. He went peacefully with no trauma. The Lord chose to take him one day before my flight home to Los Angeles. Daddy knew it was to be my last day. He told me how happy he was that I had come to visit and our last words to one another were "I love you", accompanied by our traditional good night kiss.
I had a full two weeks to say everything I needed to say, and we had a wonderful time together. I'm thankful he went no sooner and no later. He was ready to go. I had asked him if he was and he said yes, but that it was up to God. The timing was perfect, and God's hands were all over the entire experience.
The day before Daddy died, he rallied with a newfound energy. He showered by himself and looked so handsome. Although he was too weak to join us, he treated my sister, brother, niece, and me to lunch. My siblings and I then visited the mountain destination where he had requested his ashes be scattered. He wanted to fertilize the trees and be stable in one place where we could wave up to him and know where he was.
That same night I posted a picture of the inexplicably tame deer that appeared on my sister's and brother in law's property around the time of Daddy's latest heart failure early July. My sister was convinced the doe was sent by God as a spiritual presence to give us, and Daddy peace in his journey. We named her Angel and she literally walked up to me only one foot away as I snapped her photo the night before his death. You can see the posted photo on my Instagram August 8th.
Daddy always loved to make us laugh. Julie and I found him in fitting form that fateful Tuesday night donned in sunglasses as he sat in front of the TV. He was legally blind, so we were amused and perplexed. Perhaps the light from the lamp was too bright for his slight peripheral vision, or the glory of heaven was already creeping into the room. Julie asked if he was going somewhere. He said, "I think I'll go to Florida." We all laughed. Daddy had to leave Florida for the mountains 5 years ago when my stepmother Joy died, and we moved him to Julie's so she could care for him. He hated leaving the ocean and his beloved coastal home.
At 9:00 AM the next morning Julie witnessed a lone deer racing across the farm. She believed it was Angel. 30 minutes later Julie went into the guest cottage and found Daddy peacefully lying on his side on the floor with his cane resting between his arms, eyes closed, like he was taking a sweet nap. He was not yet cold. She called for me moments later and I bade my tender farewells.
The following day one of our nieces reminded us that His death fell on the exact day of Joy's passing five years ago Aug 9th. This was no coincidence. God also ordained my perfect arrival by allowing me to crack a molar that delayed my trip 2 weeks while I waited for the crown to be made. If I had left CA. a day different, I would not have been with him in death and able to travel home on my appointed date.
My brother who recently retired as a Methodist minister had chosen Tuesdays as his day to visit Daddy on a regular basis. Tuesday Aug. 8th was his first official visit before we went to lunch. Tuesday, August 15th, was the day the crematory arbitrarily chose to perform their services. My brother said his final Tuesday goodbye to Daddy only one week later there in Richmond. Richmond was also my father's birthplace.
As of today August 22nd, Angel the deer has not returned to the farm for 11 days. She was last seen walking into the brush of a neighbor's property while I was on the phone with my sister 2 or 3 days after Daddy died. Angel was visiting the farm almost daily the entire two weeks of my visit. When Julie told me about seeing the deer running across the field that morning she had to sit down and gather herself. I said, "If we don't see that deer anymore, we are going to know for sure." I now have no doubt of Angel's purpose. God wanted us to know of His great love for our family. My father did not have the easiest life. There were tragedies in his past, but he never complained. He retained a private but steadfast faith, and in his old age carried such strength and grace.
Daddy wore his sunglasses dreaming of Florida that Tuesday night, but God chose Heaven as his brighter most perfect final destination.
I have fallen in love with my Daddy all over again and I miss him something awful..but I am extraordinarily blessed to have been his daughter. Life is a blend of joy and grief… Our relationship could be complex at times, and no one is perfect, least of all me… but our love was a true bond that I'll always cherish.
"Whoever does not love does not know God, because God is love."

1 John 4:8