Life's Magic
December 21, 2016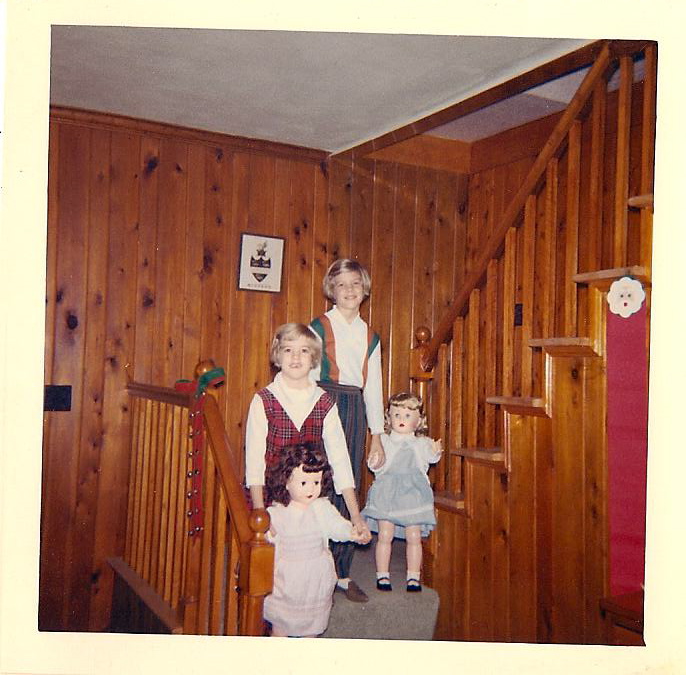 I love the Christmas season. I am one of those people who starts the holiday music On Dec 1st with no going back until New Year's day. Nat King Cole, Harry Belafonte, and Andy Williams, fill both car and home while visions of Jimmy Durante's "Frosty" dance a jig in my merry head.
I am a child of the 60's when life was a lot simpler and seemingly sweeter. Christmas was a time of great joy and warming anticipation. The worries of the Cuban Missile Crisis, the Cold War, or our parent's grown-up troubles slowly melted away with each forming icicle and frozen windowpane.
Every year my great Aunt Izola, known to us as "Dis", would arrive with my Uncle Rudolph laden with enormous bags from Thalhimers. My sister, and brother, and I found it difficult to breathe as they carried the forbidden booty into our home depositing the bags under the tree and into secret places we dared not search out. Soon the smells of wine jelly cooking and Smithfield ham filled our tiny Virginia kitchen along with conversation and laughter as our family gathered for yet another season of Christmas love.
There were no I-Phones, pods, pads, or anything remotely "I" or Apple to distract us from one another and the leisure of our precious time. These were days of simplicity and focus never to be known in the same way again. Now don't get me wrong; I wouldn't swap my I-phone for the finest corded Princess today, but I would trade the binding tether that seems to accompany our modern world of communication in 2016.
I marvel at how in a relatively few short years we have learned to stay "plugged in" from the moment our eyes open till the lights of our devices flicker over and out. The general complaint I hear is that there is no "down time" as we work more from home computers and conduct business while driving, walking, and riding elevators around town.
We instantly worry if friends and loved ones don't respond within minutes of a text imagining the worst until the familiar tone signals all is well. The art of patience along with eye contact and verbal conversation is on the dying path of cursive and handwritten notes.
I imagine children must text or e-mail Santa Claus these days with nary a postcard reaching the North Pole. It is a little sad and worrisome to see stress levels rise and anxiety increase as we juggle more virtual born relationships and commitments than we can handle. Even as we complain of its superficial nature, posting the best photo is a national obsession as we feel the social pressures of keeping up with the Kardashians and their ilk.
I experienced a refreshing break from the media madness this month while delivering gifts and holiday cheer. I stopped by to visit a dear friend and his family in their valley home. Alex and his wife have a large piece of property hidden in the midst of our typical LA mansionization where "next-door neighbor" takes on new meaning as homes battle for the most square footage. My friends have a private gate that rolls back to expose an elegant two-story Tudor with a massive back yard that I'm certain realtors and developers drool over daily.
Alex and Carolyn's three children greeted me with the cherished love and affection reserved for grandmas and aunties. I had only met these babes a couple of times in their little lives yet was smothered with coveted kisses. The next hour was spent with the children showing me their individually decorated Christmas trees, sharing knock-knock jokes, and displaying well-executed cartwheels. I held Ginger, the softest bunny alive, as Carolyn gently showed me the correct technique. Her soft angel blue eyes glistened while her progeny flitted around like happy larks as children are meant to fly.
Alex tutored the capture of an alligator lizard. They effectively home school with Carolyn at the helm. In her is the patience of a mother who cares enough to discipline with direct consistency and love.
The neighbors are close friends, so they built a gate between the properties. One of the girls slipped through and delightfully returned hand in hand with her three-year old curly headed chum. The family attends church, and travels often, educating their children and building solid relationships. The only time I saw a child near a computer was in the school/guest house finishing lessons. I felt I was on a field trip of my own as both participating student and cast member in their theatre of life and learning. I was mesmerized.
There has to be a way to follow their lead staying connected without sacrificing our sanity. The Christmas season is a perfect time to take stock and let go a little of our technical binds. Surely Christ appreciates more interpersonal relationships. After all He was born into this world specifically for the sake of rescuing our relations with our Creator and God. He is the King of connecting.
I commit to check on my "likes" less and like people in person more. I plan to make more phone calls and follow through with real time visits. I want to ask more questions and listen better actually remembering the things people say instead of thinking about what I want to offer next. I will not allow my cell phone to share the same dinner table with me, and movies at night with my husband at home will be treated with the same respect as my local AMC. I will spend daily un-interrupted time with God in my devotions far enough from social media and the maddening temptation to check in.
I challenge you to do the same and see for yourself if there isn't a lowering of blood pressure and resulting lightness of heart. It will be our experiment for the New Year and a lasting Christmas present that has the potential to benefit more than we can imagine. Let me know how it goes!
So, on that positive note I wish you all a very Merry Christmas, a Happy Hanukkah, and joyous holidays for all. 
"Cease striving and know that I am God; I will be exalted among the nations, I will be exalted in the earth."

Psalm 46:10
"Come to me, all who labor and are heavy laden, and I will give you rest."

Matthew 11:28