Letter of Love
October 25, 2022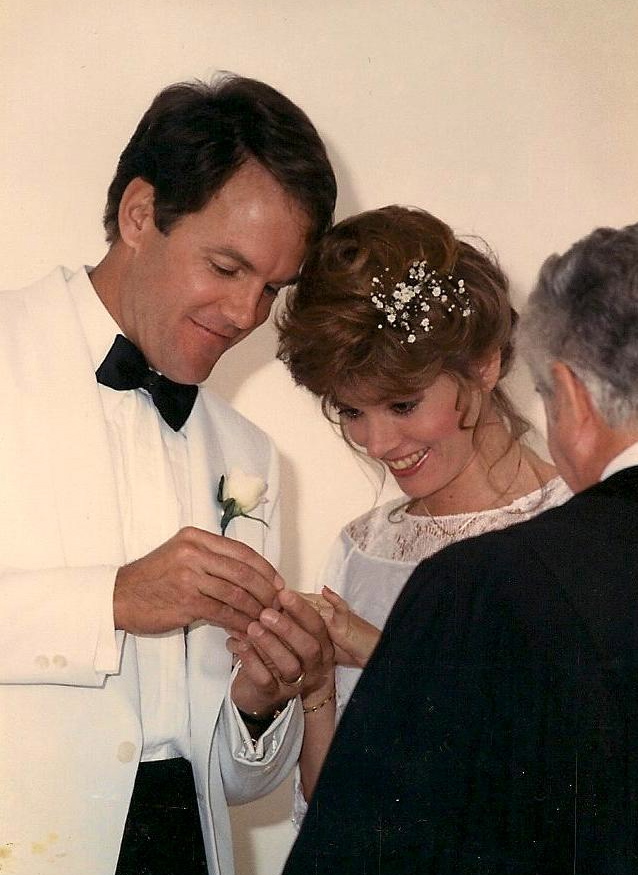 Exactly 37 years ago today he stood at my apartment door enormous bouquet in hand, movie star handsome, with a smile as wide as the sparkling Pacific.  
My Great Uncle Rudolph used to tease me mercilessly as a child repeatedly asking, "Lou do you believe in love at first sight?" I'd answer shyly "I don't know" and he would laugh with the same guttural joy no matter how many times he inquired. If he were living in 1985, I could have finally told him "Yes Uncle Rudolph, I definitely do!"
It was a blind date for the ages that ended in both of us telling our friends and families, unbeknownst to the other, that we had met "the one". We knew in 24 hours we had found our person without so much as a peck on the cheek. The evening was a miracle to me.
I had spent the past decade of my twenties on the dating treadmill including three serious relationships with one failed engagement. All of the men I loved had cheated on me, and I seemed destined to a life of Billie Eilish/Adelle suffering. It would have helped if I could write songs to express my angst, instead I took to my knees in prayer, A LOT. It was all in God's timing and He brought my husband to me at the ready age of 30. He was the epitome of my dreams as a child of the man I imagined would sweep me off my feet fairytale style and give me the life I longed for. My man did not disappoint.
I remember while we were dating thinking when is the other shoe going to drop? When will I see his true colors and usher in the dismay that had so consistently hounded my heart in the past? Thankfully both shoes stayed firmly planted on his magnificent feet.
Around eight months into the relationship he popped the question. No sky writing, no cameras or elaborate set ups, just the two of us at the dinner table at his place. He asked me if I wanted dessert and slipped into the kitchen to pull what I thought was a muffin container off the top of the refrigerator. He handed me a velvet covered box that can mean only one thing in the language of true love. The tears fell before the clam shell opened revealing the most beautiful diamond this girl had ever seen.
I managed to plan a wedding in four months, and we married on the exact anniversary of our blind date. Two incredibly loving daughters, two terrific sons in law, and two delightful grandchildren later we arrive at today. Our love has not diminished in the slightest. On the contrary there is more depth, more nuance and mutual commitment. The 36 years of contented marriage comes with a price of intention and follow through. It costs a selfless nature and willingness to see the other as happy as you desire fulfilment yourself. It takes constant communication, grace, forgiveness, and a healthy sense of humor about human frailty.
Dietrich Bonhoeffer the great German theologian wrote, "It is not your love that sustains the marriage, but from now on, the marriage that sustains your love – Letters and Papers from Prison.  My husband and I made a promise before God on our wedding day, and we meant it.  Our words were not hollow, and we both equally desire to do what it takes to see it through.  Sometimes this means accepting where the other is in a given time on our journey.  It means choosing our words carefully and never saying things we don't mean. There are fights, disagreements, disappointments, and pain.  There are also celebrations, laughter, romantic interludes, and tons of fun.  Life is change and nothing ever stays the same.  We are still rolling with the punches and will always be there for one another regardless of what boulders appear in our path.  Together we will carve away the stone and make something beautiful in the process.
I write this blog in October of 2022 as a public declaration and thank you to my husband for being the incredible man that he is.  I thank him for being my best friend and lover, for allowing me to always be myself and appreciating the things in me that other people in my life wanted to change.  I thank him for his respect, and for always being willing to grow.  I am grateful for his integrity and quiet strength and his desire to know and love God as we weave this tapestry of a loving family.  My husband is my rock and support and I would not be the person I am today without him.  Love happens at the start with attraction and a sprinkling of lust, but it is sterner stuff that makes a marriage last.  I thank God literally every day for answering the prayers of a child with a man of substance, loyalty, and solid faith who only improves with each light of the passing day.   
4 Love is patient, love is kind. It does not envy, it does not boast, it is not proud. 5 It does not dishonor others, it is not self-seeking, it is not easily angered, it keeps no record of wrongs. 6 Love does not delight in evil but rejoices with the truth. 7 It always protects, always trusts, always hopes, always perseveres.
1 Corinthians 13:4-7 NIV
In your anger do not sin. Do not let the sun go down while you are still angry.
Ephesians 4:26 NIV