Lavishly Loved
August 5, 2016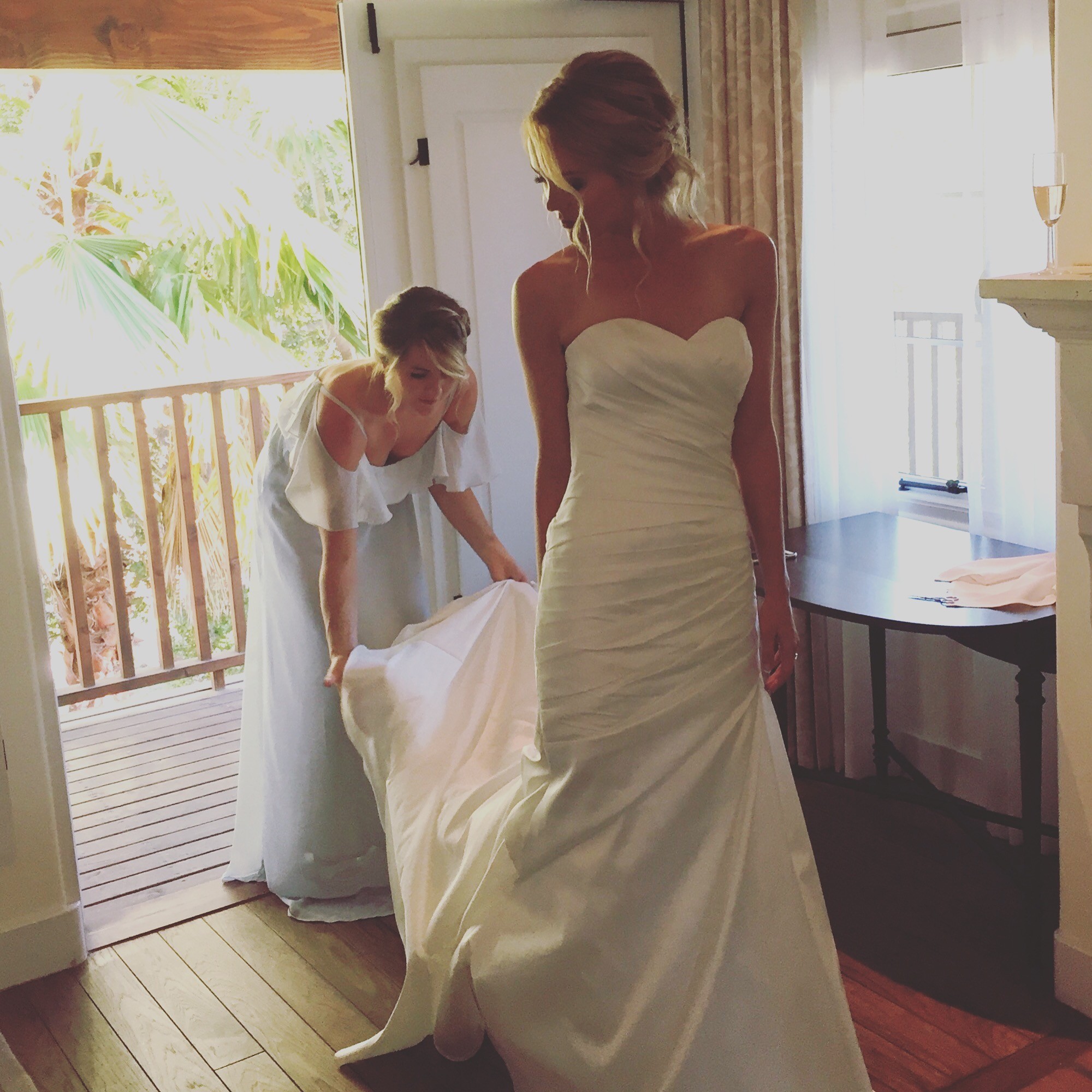 The past couple of years have been fraught with increasingly annoying, at times potentially dangerous health challenges. I thought my warranty was up ten years ago. I didn't have a clue. I've had to have surgery to correct surgery. I've endured imploding aches and pains in parts of my body I never knew existed, suffered weakened immunity, and within the past two months a ridiculously sprained ankle, a locking knee (the good one, not the one with the replacement) and basal cell surgery on my forehead leaving me with a very fine scar in the shape of an L above, and inside of my eyebrow. My sister playfully reminded me what the L on my forehead stood for. I could picture her on the other end of the phone forming "LOSER" with forefinger and thumb invoking her sibling right to tease. Ha-Ha.
I have taken it all with as much humor and grace as I can muster, but the humiliating straw that broke the camel's back simultaneously injured mine. Last week a rocking sneeze sent a lightening bolt sprain through the ligaments in my lower torso. Later my husband asked me, "Were you in a torqued position?" "Yes, I was just slightly leaning over the trash compactor when the sneeze hit." "Oh, you never want to be leaning when you sneeze. I always brace myself if I feel one coming on." He instructed.
Seriously? This is a thing? Somehow, I managed to miss this crucial bit of health education in the past 6 decades. I told my chiropractor that somebody evil out there must have a Lou shaped doll and a healthy supply of pins, plus hammer.
You may wonder how I can laugh in the midst of such unraveling. First of all, suffering is relative. It can ALWAYS be worse. I am humbled by the strength I see in those with greater difficulties. I am also thankful for the good, as well as surviving and growing from the bad. I've cultivated the ability to accept both as twin partners on my journey. I find satisfying relief in my ongoing prayer life, specific supplements, and occasional treatments. I'm actually doing really well at the moment and truth be told I have every reason to dwell in a higher stratosphere.
My oldest daughter was married in a fairy tale wedding mid-July to a man who nurtures and adores her. We love him as our own and I now have an official son for the first time in my life. My husband is praising the Lord, and the kindred testosterone having been surrounded by girly-girls since 1988. Even our dogs, and probably our fish, have always been females.
There is nothing quite like watching your daughter celebrate the most joyous time of her life to date, embraced and supported by truly loving friends and devoted family. Her face radiated like all her Christmas mornings packed into one glorious day.
Adding to my elation, her younger sister is engaged and marrying an equally splendid young man next May. I get to be a back-to-back M.O.T.B. and do it all over again! If that weren't enough jubilation for one person, my second daughter as well as her fiancé recently moved from San Diego and all four kids live about twenty minutes from our home and have great jobs nearby.
A few years ago, I played a "crying mother" in a silly Verizon Mother's day commercial that spoofed separation anxiety. I had to grieve over my daughter's move to her new apartment "4.7 miles away". It was comedic but the director wanted real tears the entire ten-hour shoot. It wasn't hard for me to conjure memories of my baby girl's precious angel faces staring up at me with that adoration only an infant owns. I imagined every lullaby sung, flower sniffed, and syllable proudly uttered first time. The waterworks flowed. Acting and writing are my lifelong passions, but I was born to be a mother.
Knowing that a perilous sneeze, or something painful, even tragic, may lurk around the corner must not stifle the joys and highs that are rightfully ours to embrace. I commit to exorcise the phantom shoe that threatens to drop like a lead boot on my heart and head when life seems a little too good to be true. I encourage the reader to follow suit.
God blesses us mightily in every season and I know without a doubt that I am covered and protected spiritually regardless of what may come.  That eternal faith is my cozy quilt of comfort.  Surely, the recent "L" branded on my forehead stands not for loss, but for "Lavishly Loved".
"For this reason I kneel before the Father, from whom every family in heaven and on earth derives its name. I pray that out of his glorious riches he may strengthen you with power through his Spirit in your inner being, so that Christ may dwell in your hearts through faith. And I pray that you, being rooted and established in love, may have power, together with all the Lord's holy people, to grasp how wide and long and high and deep is the love of Christ, and to know this love that surpasses knowledge—that you may be filled to the measure of all the fullness of God."

Ephesians 3:14-19