History and Hope
October 7, 2021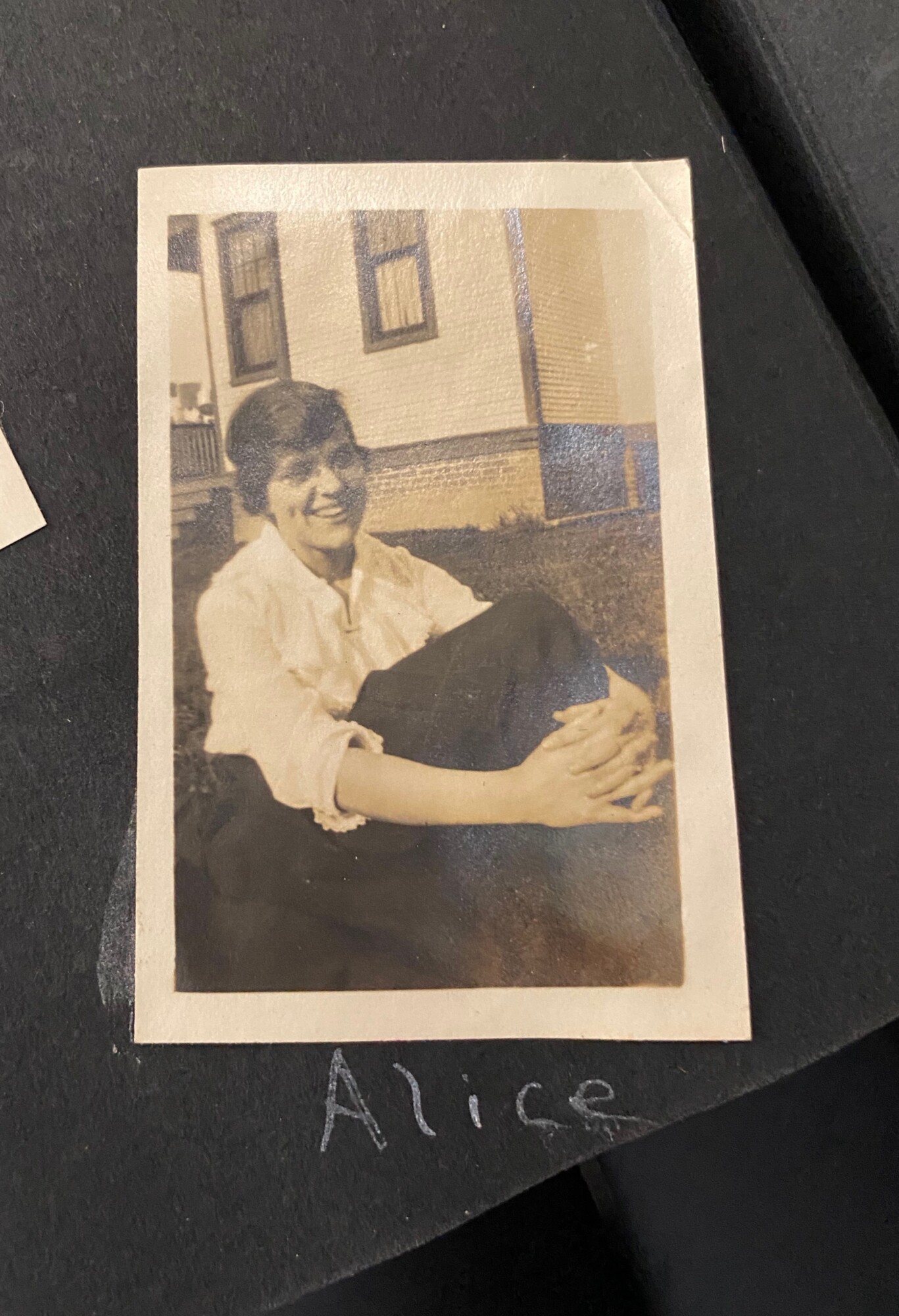 My father's mother, Georgia Alice, was four years old when her father tragically fell off a roof and died from brain injury hours later. My great grandfather's business partner proceeded to steal their successful contracting company by burning all evidence of financial partnership in the pot belly stove in front of my grieving great grandmother. She was left a widow with five children in 1904. She died three years later of a broken heart.
At the tender age of seven My grandmother moved to an orphanage and was not adopted for ten more years when she was a teen.  The family took advantage of her gentle spirit and used her as a housekeeper and companion for their daughter.  She married my grandfather at age twenty-three under the protest of her adoptive mother who ultimately rejected her.  Four years later she had two beautiful boys and life seemed more positive in 1927.
In 1944 World War II took her oldest son when he was just twenty years-old and she was left with my father as her only child. She managed for twelve more years before a severe case of Melancholia consumed her causing her to take her own life. I was eleven months at the time.
My mother's mother bore eight children losing the first two in infancy. She died from a stroke when my mother was just four. Mama's father passed from arteriosclerosis and poor nutrition when she was a young collegiate of eighteen. Apparently, my grandfather took to eating candy bars washed down with coca cola as a not so well-rounded diet. I imagine the sadness of losing his wife with such a large family to care for was overwhelming, regardless of the generous help that came from both his family and hers.
My "Grandmama Alice's" story of loss and injustice that surely contributed to her eventual suicide is one of the saddest stories I know. It marked both my grandfather and father with an underlying pain that surfaced in certain dysfunctions throughout their lives. With medication or hormone replacement therapy I might have known the woman they called "an angel" with a sensitive spirit like my own. The cruelties of her mental condition and lack of medical advancement in 1956 prevented the possibility. I never knew my maternal grandparents either and I've seen how this loss deeply affected my mother. I, and my immediate family can all claim our mutual scars from these tragedies, but we never allowed them to define or own us.
For every heart break there was a heart mend of affection, humor, intelligence, and nurturing love passed generously from one relative to another within my tribe. I come from a place of generational "positivity" and Christian roots that have held our family together in the face of divorce, disappointment, injustice, mental illness, failing health and more.
Perhaps it is in becoming a grandparent myself that I am more honed into the history that weaves the fabric of my familial story. I spent several months during "Covid lockdown" recording the photos, articles, and letters in a Google Drive to share with relatives. Our rich history marches back to the sixteen-hundreds in America and before in England, Ireland, Germany, and France. I came to know myself better as I bonded with their joys and sorrows reflecting on our mutual DNA that courses through my veins. I see my O'Roark Great Grandmother Mary Alice in the shape and depth of my brown eyes and the down turned corners of my mouth. Both she and my Harwood Great-Grandmother shared the thick eyebrows of my youth, while my dear Uncle Stanley, who died for our country fighting Hitler, bears witness in my cheekbones.
The past is a crucial part of our present and it's vital that we never forget. We learn how to navigate our todays, knowing that those before us survived the yesterdays, which allows us a chance to flourish in our tomorrows. History leaves us clues how to manage and what pitfalls to avoid. We learn what must be confessed and altered and we embrace what needs to be forgiven and repaired.
The last several years in America have been brutal. It was hard enough before Covid 19 swept in and took us all hostage. The "viral war" is not over both physically in our bodies and socially online. Yet I take heart in the trials of the past and how we've always managed to overcome.
Set your personal sensitivities aside for a moment and slip your feet into the complexities of some historic American shoes. Imagine living the life of the indigenous who first owned and nurtured the soil we call America as well as the colonists and pioneers looking for religious, and personal freedom who fought bitterly for their lives and what each believed to be their God given right to exist in the same space. Imagine being sold into slavery and carried to the New World to undergo generations of suffering that still carries ramifications for our African American population today. Imagine fighting the revolutionary war in horrific battles with England for the democracy we now enjoy. Picture the depths of bloodshed during the Civil War that pitted brother against brother and soaked our land in despair as we transitioned from a slave owning country to a goal of freedom for all. The South was decimated afterwards and with Lincoln assassinated there was little help to uplift and heal our southern states and bring unity again. Grasp the fear of World War I, followed by World War II when both men and women rallied to save and protect all from a maniacal dictator who used manipulation, genocide, and violence for control.
History has taught us that "divide and conquer" has been the signature of mankind. Imperialism is not an American invention. While we absolutely need accountability, we must be careful not to demonize our country as we sort out the past through current lenses. Even if we are still navigating the fall out, we have managed to learn from and survive multiple wars, attacks on our democracy, devastating natural disasters, political discord, fallen economies, terrorism, home grown violence, poverty, and other pandemics that have swept our nation prior to 2020.
All this is to say, the ongoing struggle we feel is very real, but it ain't our first rodeo. As bad as it is, and trust me I too feel the fear, it has been worse before in our experimental Melting Pot we call home. The progress may be labored, but I believe even with all our failures we are striving to be better. As long as we empathize more, criticize less and stop treating one another like the enemy then all of those battles served will not be in vain.
Life is hard. Life is a challenge, but it is also undeniably resilient and remarkable. I have no doubt if I asked you to share your personal history it would be an undulating road map of trials, tribulations, and seasons of success. We all have a story that plays out on the stage of our lifetime, and we do the best we can with it.
I know my Creator has a plan for me and I seek to fulfil it with a grateful heart for however long it lasts. I want to be known for what I believe in, not for what I don't. I want to make a difference by doing everything in my power to serve and help and give of my time and available resources to those in my daily path. I want to build up and not tear down. I aspire to love God above all and love my neighbor as myself. Mark 12:30,31.
One of the greatest ways to beat life's depression is to get your mind off yourself and do something for someone else. I owe it to my ancestors to pay it forward as they did for me and the people around them in their era. I'm thankful they helped cultivate my Christian faith. I've learned how they paved the way with devotion, prayer, leadership, and abounding love for others.
My Grandmama Alice suffered severe depression, but she knew Christ. She was the epitome of God's goodness in her actions, grace, and character and this made a mark beyond her earthly time. She rests in a holy place and will greet me with joy upon my arrival someday along with all my forefathers and mothers I know more intimately than one might think. I am them, living another day as my daughters and grandson and hopefully more progeny will live and persevere until the world as we know it breathes its last. These are lofty thoughts but truths that give me peace in the midst of the turmoil and hope for each day on my doorstep.
"Rivers do not drink their own water; trees do not eat their own fruit; the sun does not shine on itself and flowers do not spread their fragrance for themselves. Living for others is a rule of nature. We are all born to help each other. No matter how difficult it is…Life is good when you are happy; but much better when others are happy because of you."

Pope Francis
"Not only so, but we glory in our sufferings, because we know that suffering produces perseverance; perseverance, character, and character hope."

Romans 5:3,4